Parish Vision Statement
The Church of Saint Therese, in Gloucester, Virginia, will be an Evangelizing community where love, compassion and mutual understanding are present.
The Church of Saint Therese will be a parish community with a vibrant sacramental life.
The Church of Saint Therese will be a place where families can come together to grow in their faith.
The Church of Saint Therese will be a place which encourages youthful interaction with the church.
The Church of Saint Therese will be a parish which reaches out to the broader community and brings hope to our neighbors in need.
The Church of Saint Therese will be a safe and inviting community that warmly accepts any who come to it.
The Church of Saint Therese will be a parish that provides an environment that fosters fellowship.
Live Stream Mass
Mass will be Live Streamed only during the 10:30 Mass. Watch on Facebook at: www.facebook.com/churchofsttherese.
Watch the replay on YouTube:
Church of St. Therese – Gloucester, VA YouTube Channel
NEW: Please click here FamilySuite to register for MyOwnChurch which is the Parish database software we use. Once you register you can log in to securely check your donations, print your tax statements, update your address, phone, and member information. Most importantly, we encourage you to upload a photo to our family directory! Please remember to check permissions in your family record to allow sharing of your information. For example, access your registration information and on the family details page, click "publish photo for pictorial directory". Voila! This will allow you to upload your photo . The same is true for phone, email and address. If you do not allow by clicking, your information will not be available/visible to others. Please call Deb at 804-693-5939 if you have any questions and thank you!
Carefree Seniors (youngsters 60+)
We want you!! Please contact Frank Rivera at 804-854-1101. The regular meeting will be from 1-3pm in the church social hall on the 3rd Wednesday.
Get your BINGO on!
Doors open at 5:30 and play begins at 7:00pm. Concessions are also available. Nightly door prizes/progressives/pull-tabs/50-50 offered as well. BINGO IS ON TUESDAY NIGHTS.
Grief Share
Grief Share meetings are held here at St. Therese's ALC on Sundays 2-4pm beginning April 30. Contact Linda Gregory for more information at 804-815-7695.
Threshold Bible Study has resumed on the 2nd and 4th Thursday evenings of the month at 6pm and will run thru November 2023. We continue the series "The Tragic and Triumphant Cross". More information is available from Jim Lee at 804-693-0826.
You're invited!
Please join us in the parish social hall for Donuts and Coffee after the 8 and 10:30 Masses on June 11, 2023. Enjoy food, fellowship and fun!
Family Fun Night will be celebrated Friday, June 23, 2023 from 6-8pm at the Parish. Feel free to bring your friends and neighbors as this event is open to the whole Gloucester community!!
Fr. Gregory will host Theater-N-Theology on Friday, June 16, 2023 at 7pm in the parish meeting room. Hope to see you there!
Adult Faith Formation opportunity available Sunday, June 25, 2023 between the Masses in the parish meeting room hosted by Fr. Gregory.
Reminder: Ministries Appreciation Lunch is scheduled for June 25, 2023 at Noon.
Bible Study
Join us! Scripture study Fridays at 10:00am in the meeting room to read the Bible from Genesis to Revelation in chronological order. Call Nadine McGrady at 804-639-5939 to sign up. N.McGrady@StThersGlo.org
Weekday Masses on Tuesday, Thursday, and Friday at noon; Wednesday Mass at 8:00AM.

Register for Children's Faith Formation
Become a Lector, Usher, Altar Server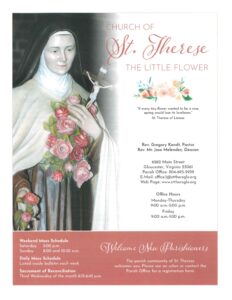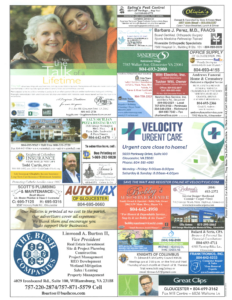 Please patronize our sponsors!
Office Hours
Office hours are Monday through Thursday from 9 am to 2 pm, Fridays from 9 am to 1 pm.